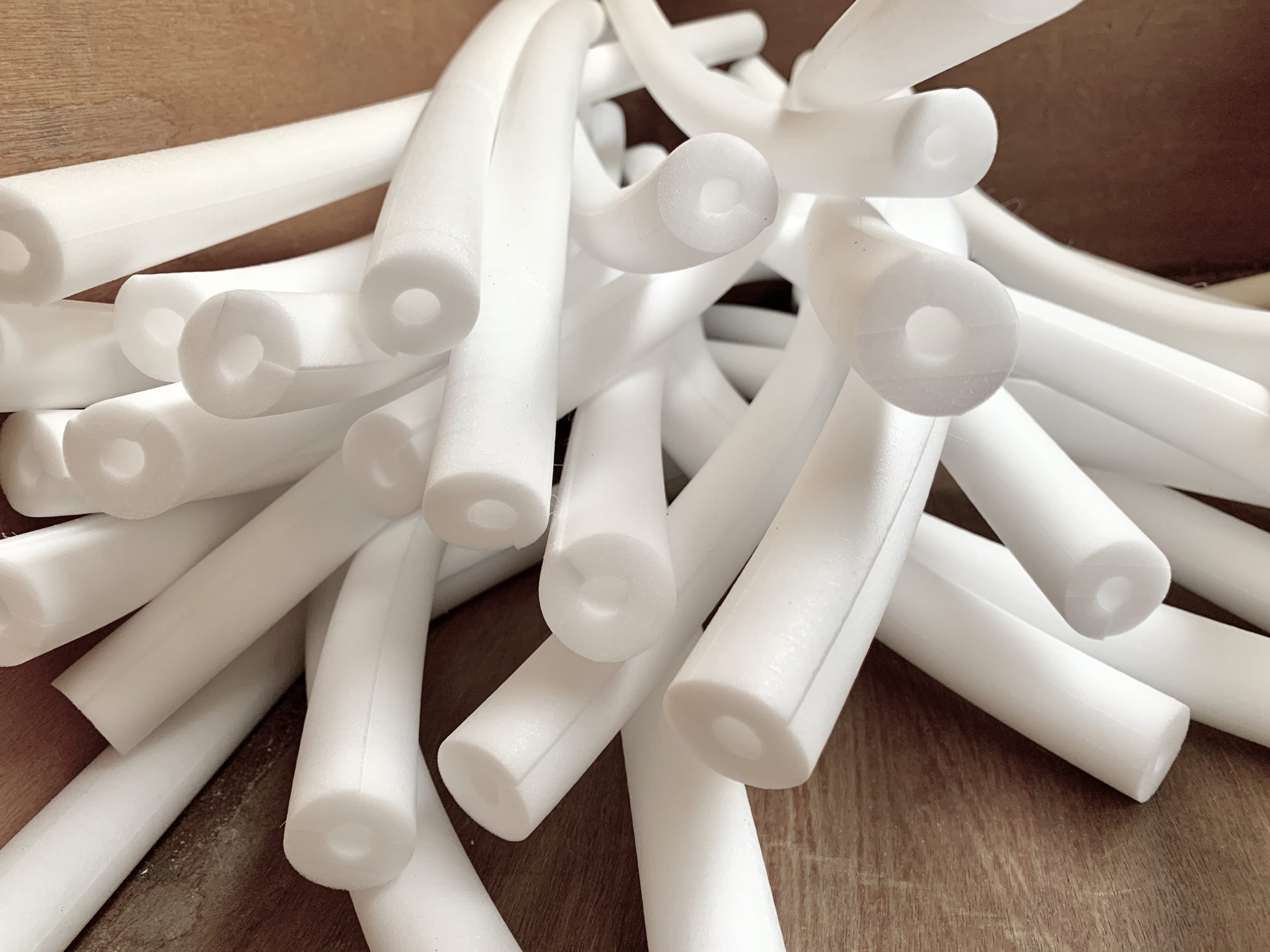 Foam tubing for medical/ comfort support
For people with neurological conditions like cerebral palsy or musculoskeletal disorders such as arthritis, holding cutlery, or indeed, any implement which requires a firm grip, can be very difficult. It may mean that simple daily tasks such as eating dinner are impossible without someone else's assistance.
Building up the handle by the simple means of inserting it into a fitted foam tube can provide the means to grip effectively, allowing independent use of tools and implements.
Closed-cell foam tubing, which KCL can supply in various sizes, is the perfect material. It's light, non-absorbent, non-sticky, washable and dishwasher safe.
Supplied in one metre (39˝) lengths, it may be cut to size.  This product is much in demand by occupational therapists who seek to improve daily living for their clients.
Description: Plastazote Tubing Thick Foam Grey 9mm & 30mm
Closed cell foam tubing, available in various sizes to provide a built up handle for easier gripping e.g. cutlery, pens etc. It is non-absorbent, non-sticky, washable and dishwasher safe. Supplied in one metre (39˝) lengths, it may be cut to size. Exact lengths may vary plus or minus 50mm. External Diameter 31mm (1 1/4˝).
This product may be referenced by 09-110-1997, 091101997 or AA6106M
Zotefoams are justifiably proud of the fact that Plastazote is the most referred thermoplastic in the whole of the medical lexis, here at Kewells we are proud to supply some of Europe's leading quoted healthcare companies with their bespoke designed foam applications.
Many of the foams specified by our customers in this area require the foams in skin contact and also to be MRI, CT and X-Ray lucent so they can be deployed in splint and support applications we manufacture.
We often specify Azote foams for prosthetic applications due to their very low mass, additionally their range of available densities means that they have a wide range of podiatric applications, particularly; Plantar Fasciitis,Pes Planus and Pes Cavus.
Plastazote and other foams are used in "moulding to the body" applications which has uses such as manufacture of joint supports, spinal supports and immobilising orthoses.The unusual hydrophobic and flexible nature of our foams also makes them ideal for manufacturing hydrotherapy equipment. There are a wide variety of other medical foam solutions and of course we are always interested to deliver new healthcare uses for our foams!