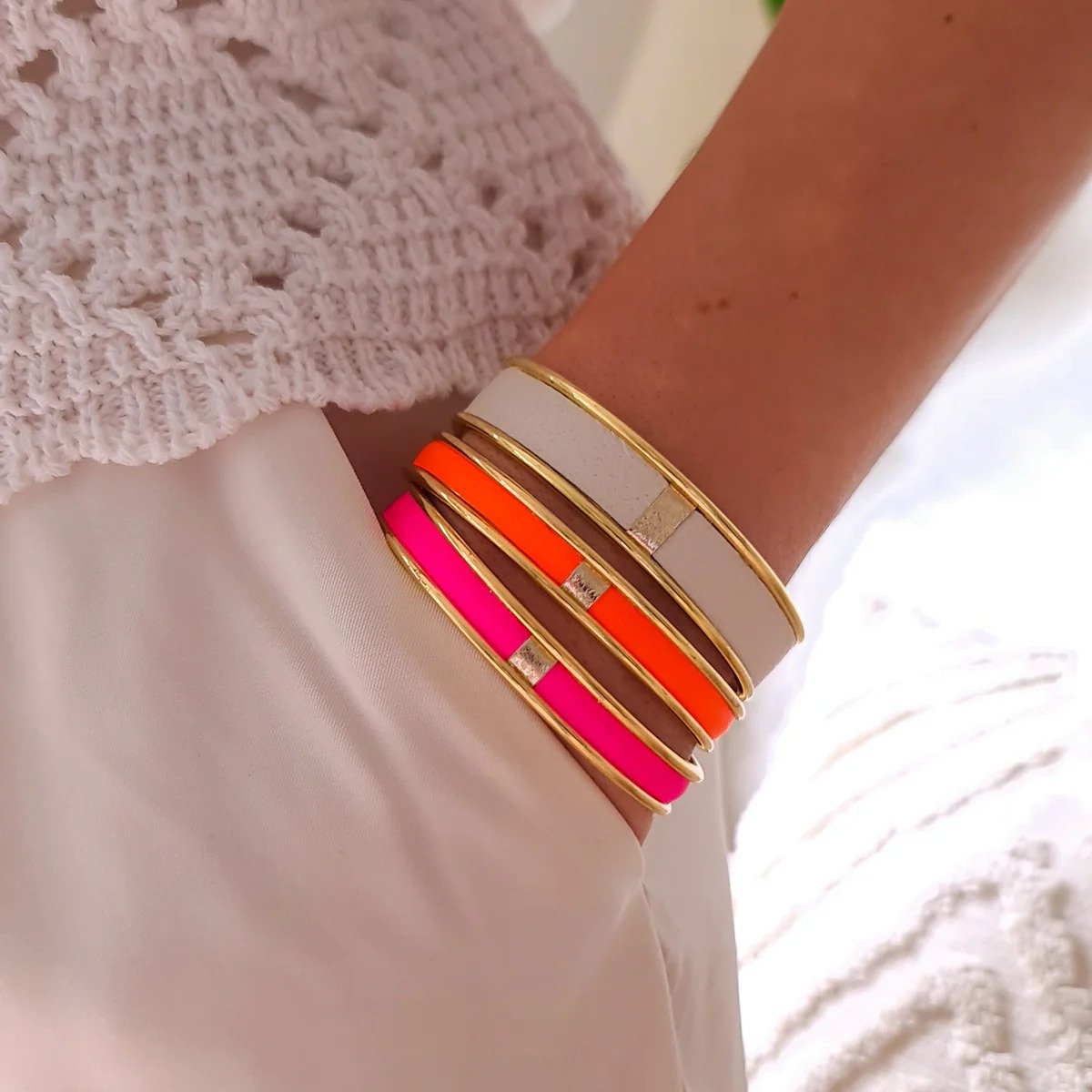 Unlocking Business Potential with Kewell Converters' Expert Subcontract Manufacturing
The background
Catherine de Crèvecoeur is a premium jewellery label from Kent, specializing in unique handcrafted statement pieces using ethically sourced leather materials. The brand's meticulous focus on details guarantees exquisite beauty and superior quality in every finished product.
The problem
While the company's designs change with each season, they were limited in their production capabilities to cope with the scale at which the business was expanding. With intricate design shapes, they needed to understand the elements that could be utilised to maximise cutting their materials. Since launching the business, the jewellery business had relied on a number of small mini press machines for cutting leather, which was labour-intensive and not efficient.
"We just kept getting bigger machines, but were restricted with the shapes and types of leather." Catherine de Crèvecoeur
As the business expanded, they no longer had the in-house capabilities and they couldn't ramp up production when required so they sought expert help within the manufacturing sector.
The solution
Kewell Converters provided consultancy and technical advice on tooling design and production and provided subcontract manufacturing using the latest die press-making tools.
One of the first services that Kewell Converters provided was to help the jewellery business get accustomed to press-making tools to stay in sync with their designs so they put them in touch with their trusted toolmaker. But Catherine de Crèvecoeur soon realized that to press the shapes out of the leather, they needed more than just a new press machine.  And after careful consideration and evaluation, they realised that owning, working, and maintaining these powerful and expensive cutting machines required expertise that goes beyond what Catherine de Crèvecoeur initially had in mind.
Kewell Converters got straight to work and provided in-depth testing and trials before the use of their production facilities. They gave advice on what's possible in terms of tooling design to make sure that the tools could cut the products. In addition, they upskilled the team to use the dirt and press machines with confidence, which helped improve production and meet customer demand.
Precision cutting with our state-of-the-art die-cutting process
Thanks to our advanced die-cutting process, we were able to offer precision cutting.  This is specifically designed for soft and semi-rigid materials and our cutting-edge machinery ensures unparalleled speed, accuracy, and material efficiency, so it was perfect for the job in hand.
Our versatile travelling head cutting press machines are ideal for handling sheet material, long lays, or even material straight from the roll. With a motorized cutting head that effortlessly moves within the press frame, our skilled operators manually position the die for optimal results. No job is too big, as our machines can handle materials up from 1.5 to 2 meters wide and are easily fed through the rear of the press.
When it comes to tooling, there are three main types to suit a range of needs. Wood forme, strip steel, or forged steel. Our wood forme features a cutting blade set in a sturdy plywood backer, while our strip steel uses a heavier gauge steel that is bent to the required shape. For the most demanding applications, our forged steel tooling delivers unparalleled precision, making it ideal for long runs and harder materials. The Flexible Travelling Head Cutting Press (rarely achieved by other press styles and is the natural progression if a swing arm press is too small or limited for an application was used for Catherine de Crèvecoeur.
The results
Thanks to Kewell Converters, the jewellery business achieved a tenfold increase in production capacity by improving efficiency. Previously, their bracelets' cutting process was inefficient and resulted in high reject rates and loss of raw materials. However, with Kewell Converter's expert guidance and facilities, they achieved better yield, less waste, and cost savings. This allowed the business to design and produce cost-effective, fashionable, and customized products with better quality control. As a result, they became more responsive and proactive to the market's changing demands, giving them a competitive edge.
"The quality is very good.  And it's reliable.  It helps everything to run smoothly." Catherine de Crèvecoeur
The jewellery businesses can now design and produce cost-effective products with a high degree of fashion and customization thanks to the high-quality machines in the factory at Kewell Converters. This skill set has enabled them to be more reactive and proactive with their designs, changing their stock and products depending on the season or market trends.
"We could immediately see the difference in quality.  We achieved a cleaner cut and could produce a more versatile product range." Catherine de Crèvecoeur
At Kewell Converters, we offer consultancy and subcontract manufacturing services to businesses. Subcontract manufacturing allows you to scale up production without making a large capital investment. You can turn it on and off as needed, making it a flexible option. We helped Catherine de Crèvecoeur maximize their yield and achieve the highest quality products while reducing waste and cost. Our relationship with raw material manufacturers also allowed them to procure premium materials at competitive prices.
We take pride in being a reliable partner for businesses looking to drive efficiency in their production processes. Catherine de Crèvecoeur leveraged our expertise to produce cost-efficient custom designs at scale. From consultancy to subcontract manufacturing, our comprehensive services allow businesses to remain responsive and proactive in changing stock and product lines. Let us help you streamline your production processes too.
"Kewell Converters are experts in everything they do.  They allowed us to see how far we could take the business. Catherine de Crèvecoeur
Working with Kewell Converters has indeed provided Catherine de Crèvecoeur with a competitive edge in the market.
"As a small business being able to access and use Kewell Converters, it's made a big difference.  It's been a game changer." Catherine de Crèvecoeur
This case study shows Kewell Converter's reliability, expertise, and dedication to providing unparalleled manufacturing solutions. Why not browse some more of our case studies (link) to learn how we've worked with other customers using different capabilities?
Contact us now to learn how Kewell Converters can help your business scale with quality, efficiency, and cost-effectiveness.