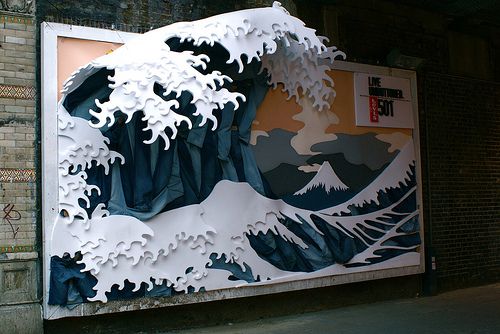 Levi's 501 foam street poster in London
As part of the Levi Jeans Live Unbuttoned 501 campaign in London in 2008, the advertising agency wanted to create a huge multimedia outdoor wall poster, based on the well-known work of art by Katsushika Hokusai – The Great Wave at Kanawaga. This was originally a woodblock print made in the 1830s.
KCL were tasked with fabricating an intricate design of the foam on top of the waves – foam made from foam! Traditional blue Levi jeans were used to represent the sea, in eight-foot high denim waves, all secured on to a foam backing.
The posters were located in Chalk Farm Road, Camden, Wardour Street, Soho and Shoreditch High Street.
Sadly, the installations didn't last for very many days, the jeans being too much of a temptation to passers-by!
Levi's 501 Foam Street Poster in London:
Plastazote can create tremendous impact when sculpted creatively on 3-D billboards or used tastefully in window dressing. Its use as a basic art material for sculpting owes much to its consistency characteristics, lack of in-built stress and the ease with which it can be cut, carved, welded, laminated and otherwise manipulated.
Azote High Performance Foams Fueling Artistic Creativity:
Zotefoams is the world's leading manufacturer of polyolefin block foams marketed under the Plastazote® Evazote® and Supazote® brands. 'Azote®' foams are characterised by their insert light weight, outstanding physical performance characteristics, consistent cell size, depth of colour and lack of in-built stresses. These high purity materials have been used for artistic purposes for many years and the ability to manipulate them is seen as a commercial skill in creative circles.
Azote foams are simple to manipulate by hand. They can be cut with scissors, sawn, hot wired, carved with a craft knife, drilled, sanded, glued, melt laminated and even welded with a heat gun. Being crosslinked they can also be thermoformed easily (and at relatively low temperatures) and are also suitable for 'direct to body' moulding.
OUTSTANDING AZOTE FOAM PROPERTIES
• Lightweight yet durable
• Wide selection of vibrant colours
• Pure and non-staining
• Extremely low odour
• Non-toxic and safe
• Outstanding moisture resistance
• High shear strength
• Consistent, with regular cell size
• Very low levels of in-built stress
• Good impact absorbing properties
• Excellent compression / tension characteristics
• Wide range of densities
• Flame retardant grades available