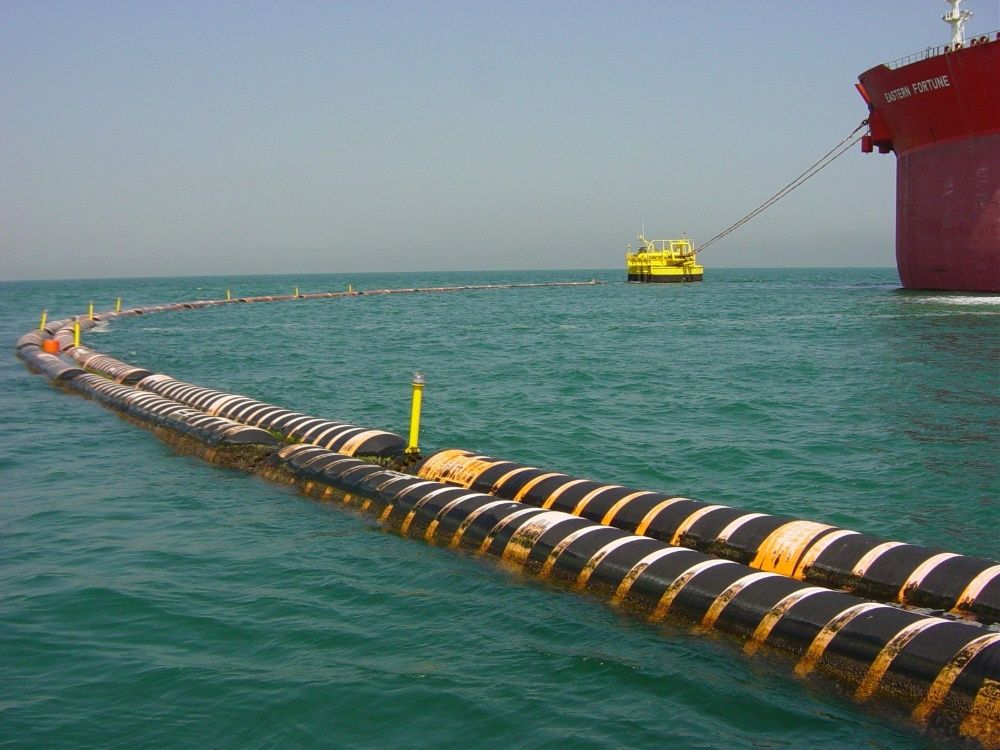 Marine selfflote single carcass floating hoses
Kewell has supplied specialist manufactured foams for many marine buoyancy such as ship to shore pipeline connectors for decades. Foam functions particularly well in this environment because of its peculiar combination of mechanical properties, low mass, high flexibility, and durability. Its chemical properties, its relative hydrophobic nature and its inertness and resistance to salt water and chemical degradation make it the ideal material for the delivery of floating hoses around oil installations.  The relatively large scale of these applications has meant that Kewell is one of only a handful of businesses in Europe with the scale and experience to consistently deliver reliable hose applications in foam to the Oil Services Market.
Of course, fenders buoys and floats which offer floatation (even when damaged) can be manufactured to bespoke designs by Kewell where the low density, energy absorption and flame retardant nature of our preferred foams such as Plastazote and Azote are key.  containment to the creation of exclusion zones at sea or in inland waterways. The puncture protection provided by AZOTE foams is highly valued in such applications.
Selflote was the first integrally floated offshore oil hose in the world. Its single carcass design was as unique then as the new generation of Selflote is now, the standard against which others are compared. Through continuing programmes of innovative technical evolution today's Selflote combines immense strength with flexibility and is capable of withstanding the demands of the world's most exposed offshore installations.
Proven design
Highly flexible
Unique patented second lining
Excellent fatigue resistance
Over 40 years service history
Specialised fitting design
Floatation bonding system resistant to sea water ingress
STANDARDS AND SPECIFICATIONS
As a minimum, Dunlop Oil & Marine Safgard hoses fully meet the requirements of the Oil Companies International Marine Forum publication "Guide to Purchasing, Manufacturing and Testing of Loading and Discharge Hoses for Offshore Moorings", latest edition, (commonly referred to as "OCIMF Hose Guide" ).
All hoses are manufactured under a quality system which is fully accredited to ISO 9001:2000 and API Q1 standards. Manufacture is in full compliance with the Pressure Equipment Directive (PED) 97/23/EC and, following assessment under module H, hoses are CE branded where required.
Dunlop Oil & Marine offshore loading hose designs also satisfy individual specifications prepared by major companies.