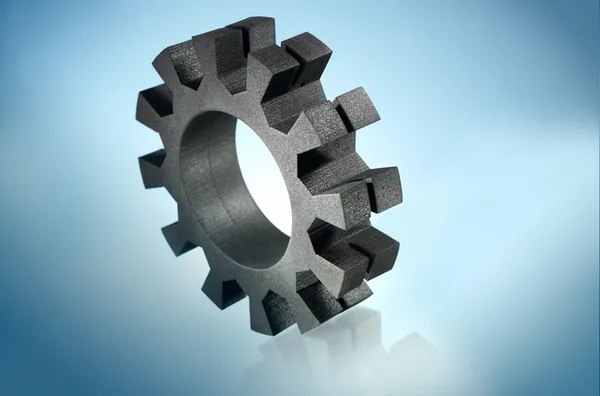 Sustainable & Eco-Friendly Foam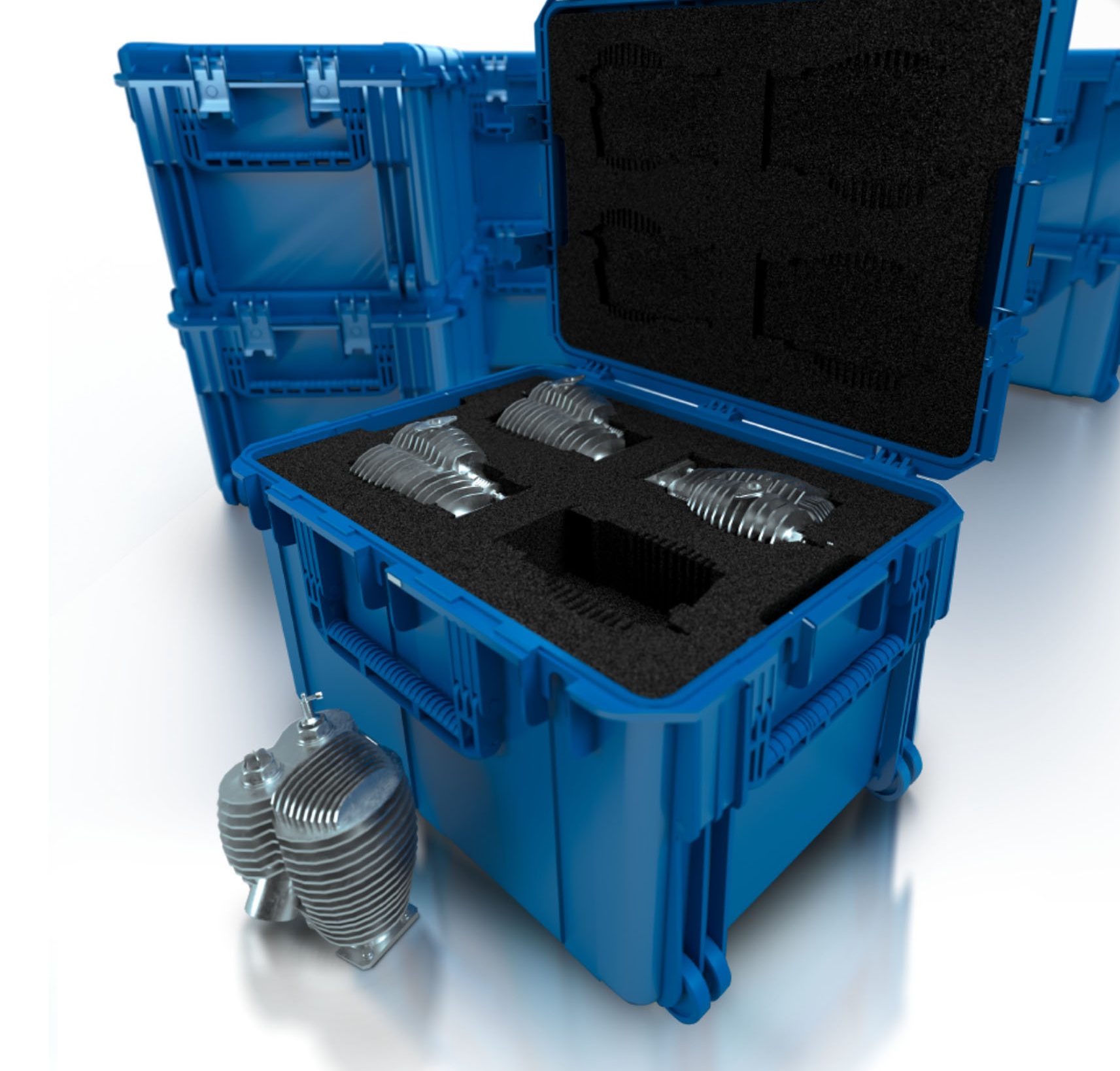 ECOZOTE®LDR Foam
ECOZOTE® LDR is closed cell, cross-linked low-density polyethylene (LDPE) foam incorporating 30% recycled material, complying with emerging requirements for recycled content in product protection applications developed for future sustainability in the UK by Zotefoams Plc. Enhance the sustainability of your business's protective cases, tool control, and engineered cushion packaging by making the transition to Ecozote recycled Plastazote foam inserts. ECOZOTE® foams delivers performance on par with Plastazote foam, while incorporating 30% recycled materials. This closed cell, cross-linked, low-density polyethylene (LDPE) foam material is the perfect choice for creating performance foam inserts for cases and volume protective packaging solutions.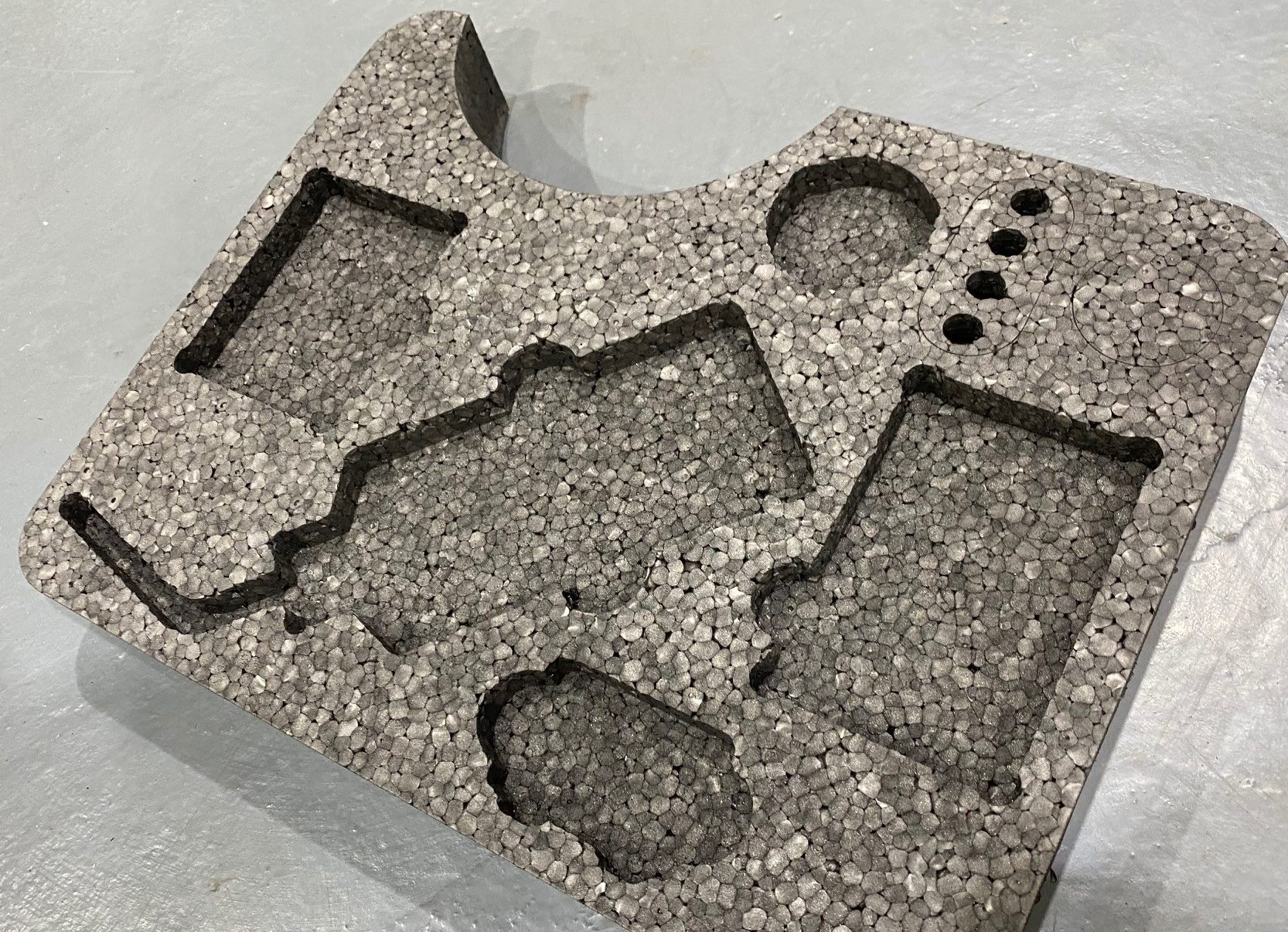 ARPLANK foam
ARPLANK foam is a highly resilient closed-cell bead foam packaging material, manufactured from EPE (expanded polyethylene). ARPLANK planks have excellent properties for absorbing and dissipating energy
. ARPLANK is 
100% recyclable 
and in Europe, consists of 30% recycled content sourced from post-consumer PE or recycled ARPLANK waste from our customer sites. ARPLANK enables material savings of up to 40% versus other PE foams, whilst maintaining the same protective properties.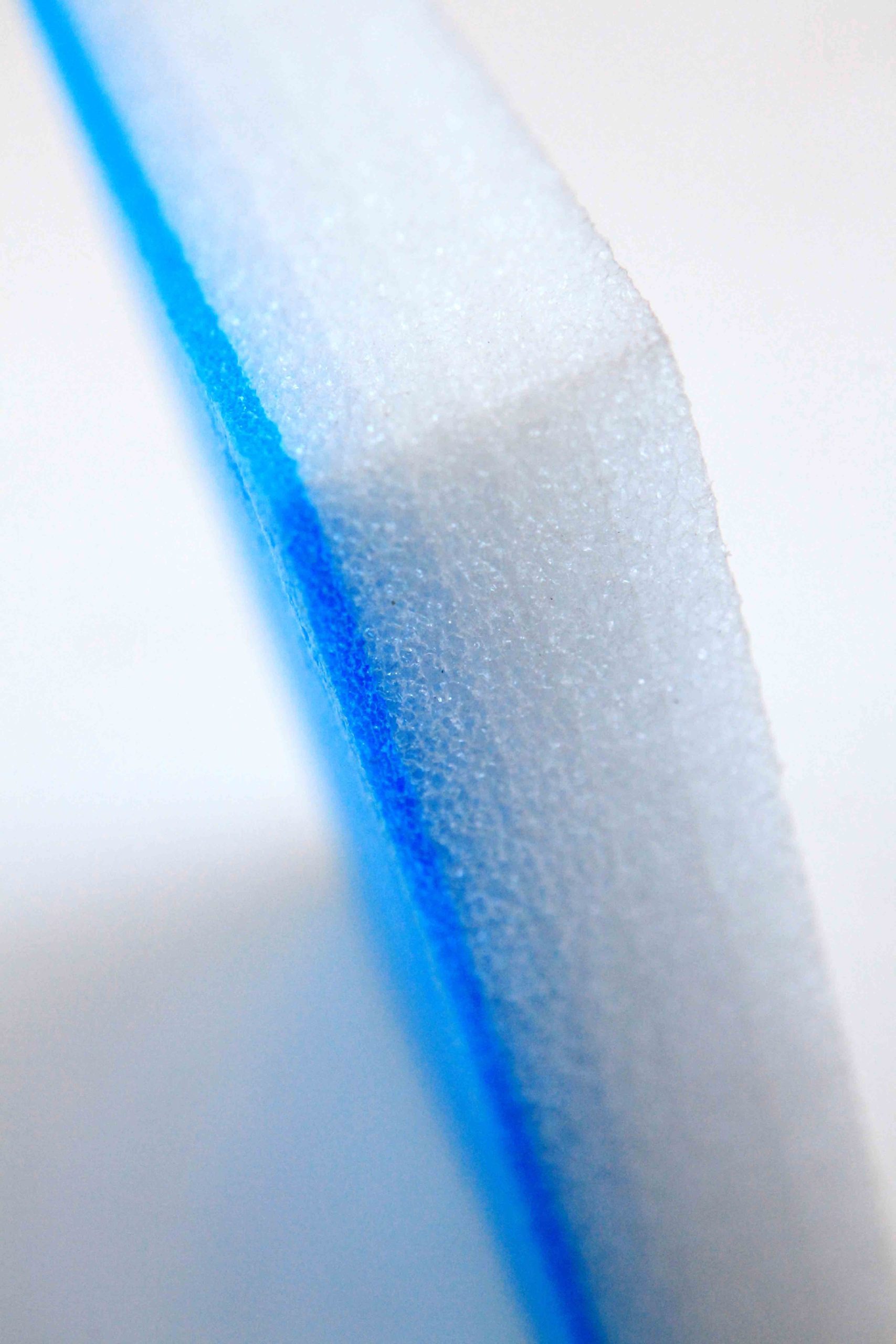 Stratocell R foam
Stratocell R foam is an environmentally friendly choice, as it requires less material to safeguard your goods compared to alternative foam packaging. In contrast to regular Stratocell, which is manufactured from virgin materials, Stratocell R contains a minimum of 65% recycled content, providing a sustainable and eco-conscious option. With its advanced cushioning properties and durability, it ensures that your valuable items arrive intact whilst using less materials and cost-effective packaging.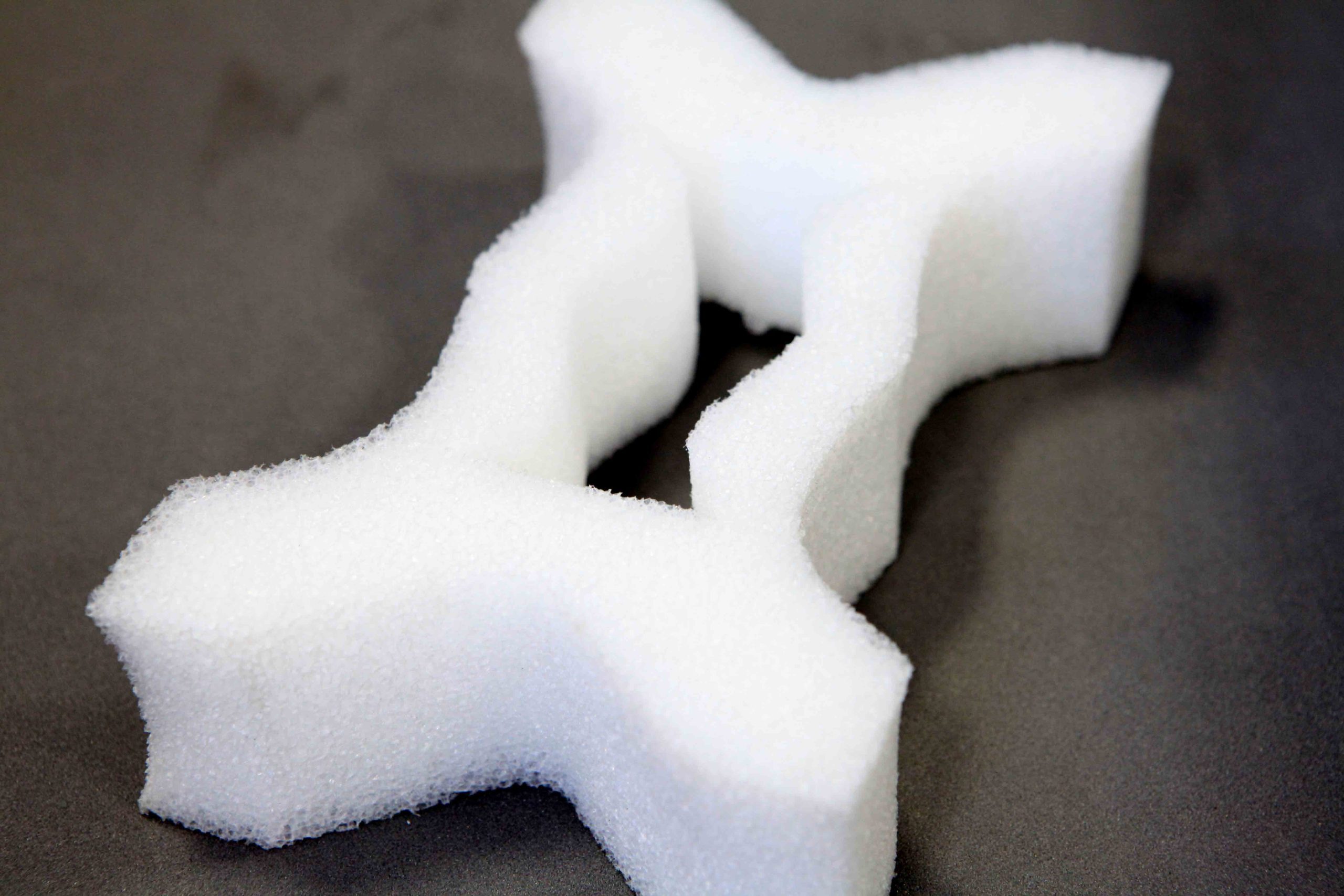 Ethafoam HRC and MRC foam
Opting for Ethafoam HRC or MRC not only retains the advantages of using Ethafoam but also elevates your commitment to eco-friendly foam packaging. Ethafoam HRC (High Recycled Content) incorporates a minimum of 65% pre-consumer recycled material, while Ethafoam MRC (Maximum Recycled Content) is crafted entirely from 100% recycled sources. Both variants are closed-cell polyethylene foams renowned for their exceptional cushioning capabilities. These materials are the foundation for crafting environmentally conscious foam packaging solutions, including end caps, inserts, and pads.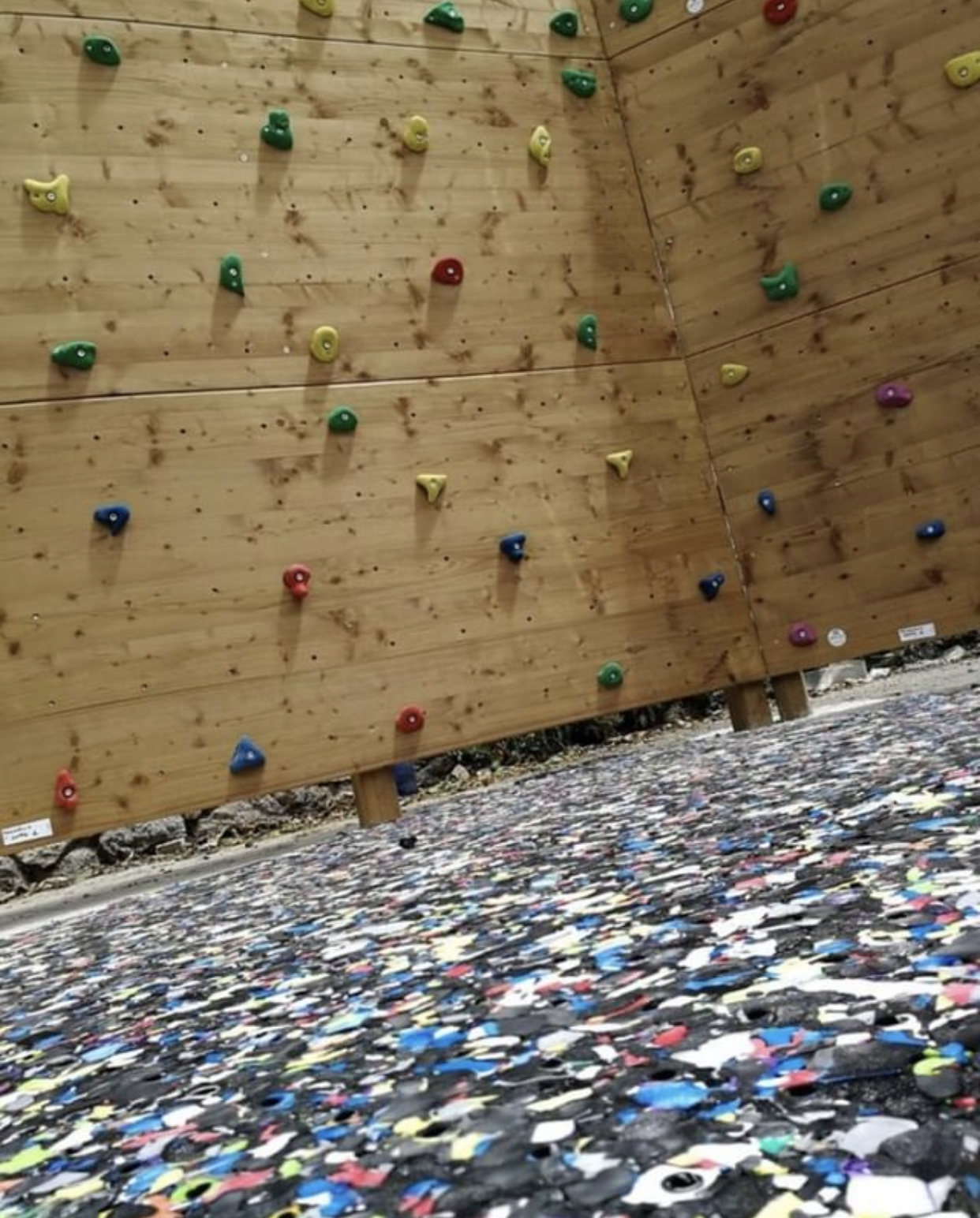 APETEK B2B Refo Protect P
REFO PROTECT P THE FOAM LAYER FOR INDUSTRY APPLICATIONS A product made using the residue material of post-industrial production. In accordance with the principles of the Green Circular Economy. Waste material of XPE foam coming from the post-industrial conversion is defined by-product and cab heat welded to base material to produce the REFO PROTECT blocks.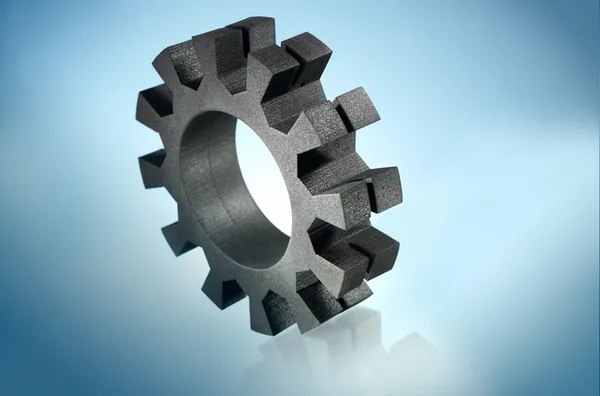 KOEPPCELL® K/PE30 foam
KEOPPCell grade K/PE30, we have a expanded polyethylene (EPE) block foam in our portfolio that meets the strict requirements of the BLUE ANGEL (Blauer Engel)environmental standard.  K/PE30 has been awarded the BLUE ANGEL prestigious certification in Germany and the only chemical blown PE worldwide to achieve this award back in 2017. Special emphasis is placed on demanding tests of low emissions and pollutants with and contaminant content is analysed in detail.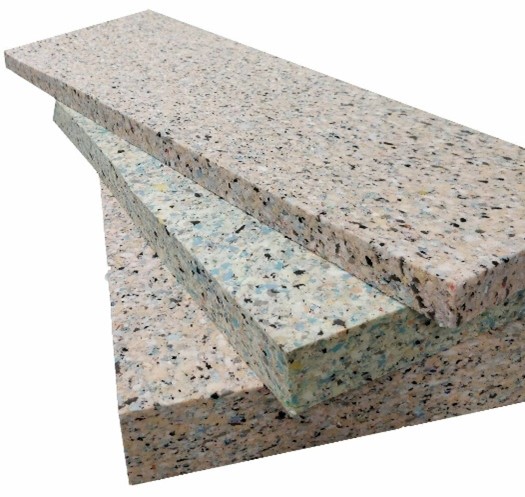 Chop (reconstited) foam
Carpenter's (Recticel Engineered Foams) Richbond bonded foam is typically made of recycled (using in-house trim and by-products) shredded, combustion-modified, bonded flexible polyurethane foam.  Richbond is commonly used for sport and leisure applications to produce gym mats, climbing wall frames, gym equipment and foam seat cushions. It can also be used as a component of carpet underlay.  Bonded foam can easily be cut into different sizes and shapes for a wide range of applications. It is made from recycled material and is easily recyclable where facilities are available.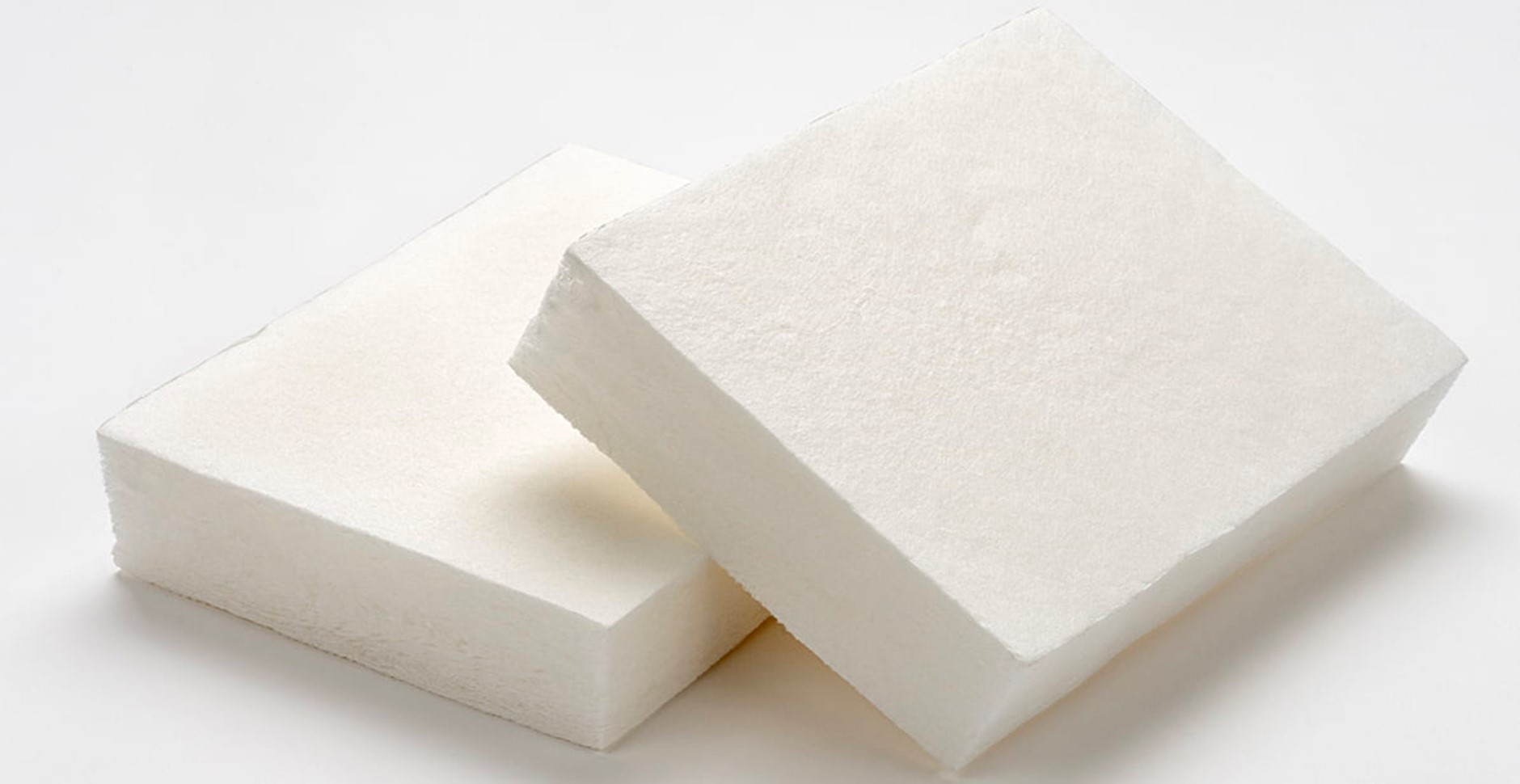 Cellulose foam
Cellulose foam (Stora Enso) offers customers a long-term and sustainable solution. The world needs materials that are both renewable and recyclable – a circular bioeconomy – to combat global warming and to minimise waste. In a circular economy, waste is minimised as materials are reused and recycled to maximise environmental and financial value.  Protective packaging today is made from non-renewable resources. We want to offer our customers a long-term and sustainable alternative. This unique bio-based foam is a mono-material derived from pulp that offers unprecedented attributes – it is renewable, biodegradable, and recyclable. This will allow for a circular material flow in existing waste management systems, facilitating the handling of packaging materials after use. Today, less than a third of plastic waste in Europe is recycled while over 80% of paper and board materials are recycled*. We want to see a future where the use of fossil-based plastic diminishes, and solutions based on renewable materials become the norm. (*Source: Recycling in the EU).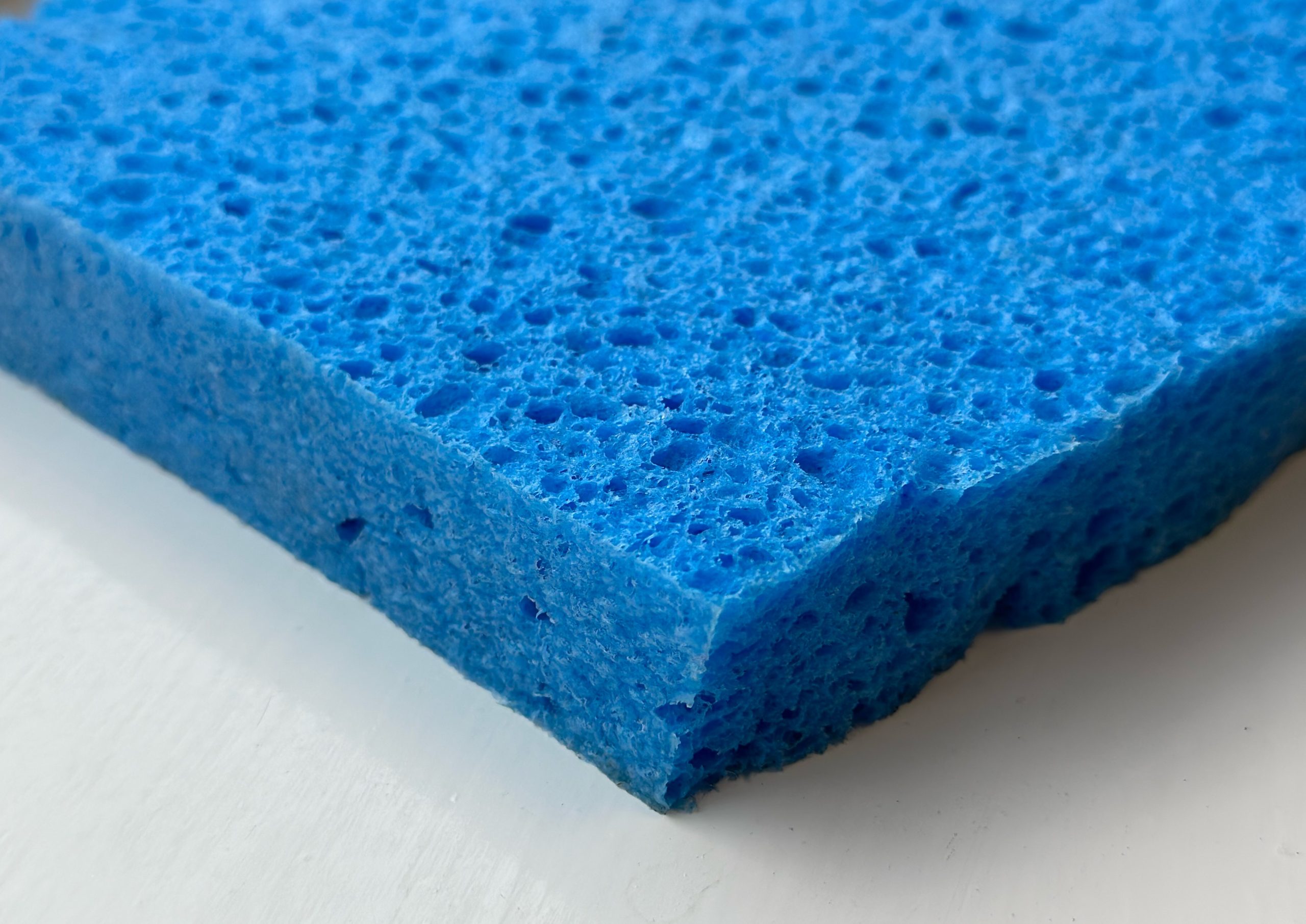 Cellulose sponge
Spontex viscose sponge materials are made from regenerated cellulose, pigment, water and softening agent (for wet sponge only).  High liquid absorption is just one of many characteristics which allows the usage of this material in many applications. The composition makes the cellulose sponge unique and sustainable. This material can be processed with different kind of manufacturing capabilities to adapt it to needed conditions of industrial users.  Spontex high quality cellulose sponge is a material made of vegetal ingredients such as wood pulp and cotton. Cellulose sponge is produced in European facilities with the main factory is in Beauvais, France. It is certificated with (Quality) ISO 9001 and (Environment) ISO 14001. From supply to delivery, we control each stage of the manufacturing process. It is also hyper allergenic for body care and medical products.
Natural characteristics of ellulose sponge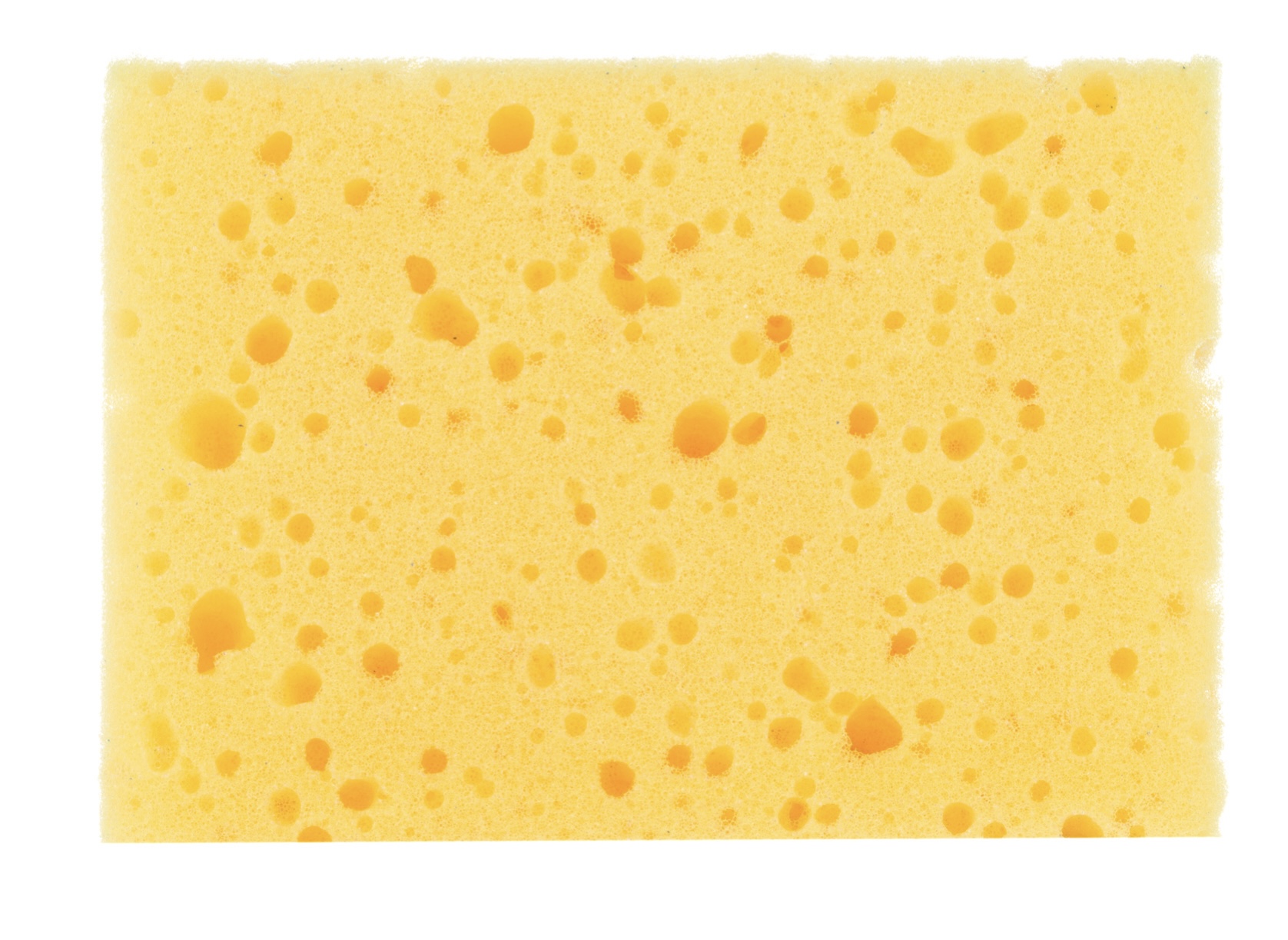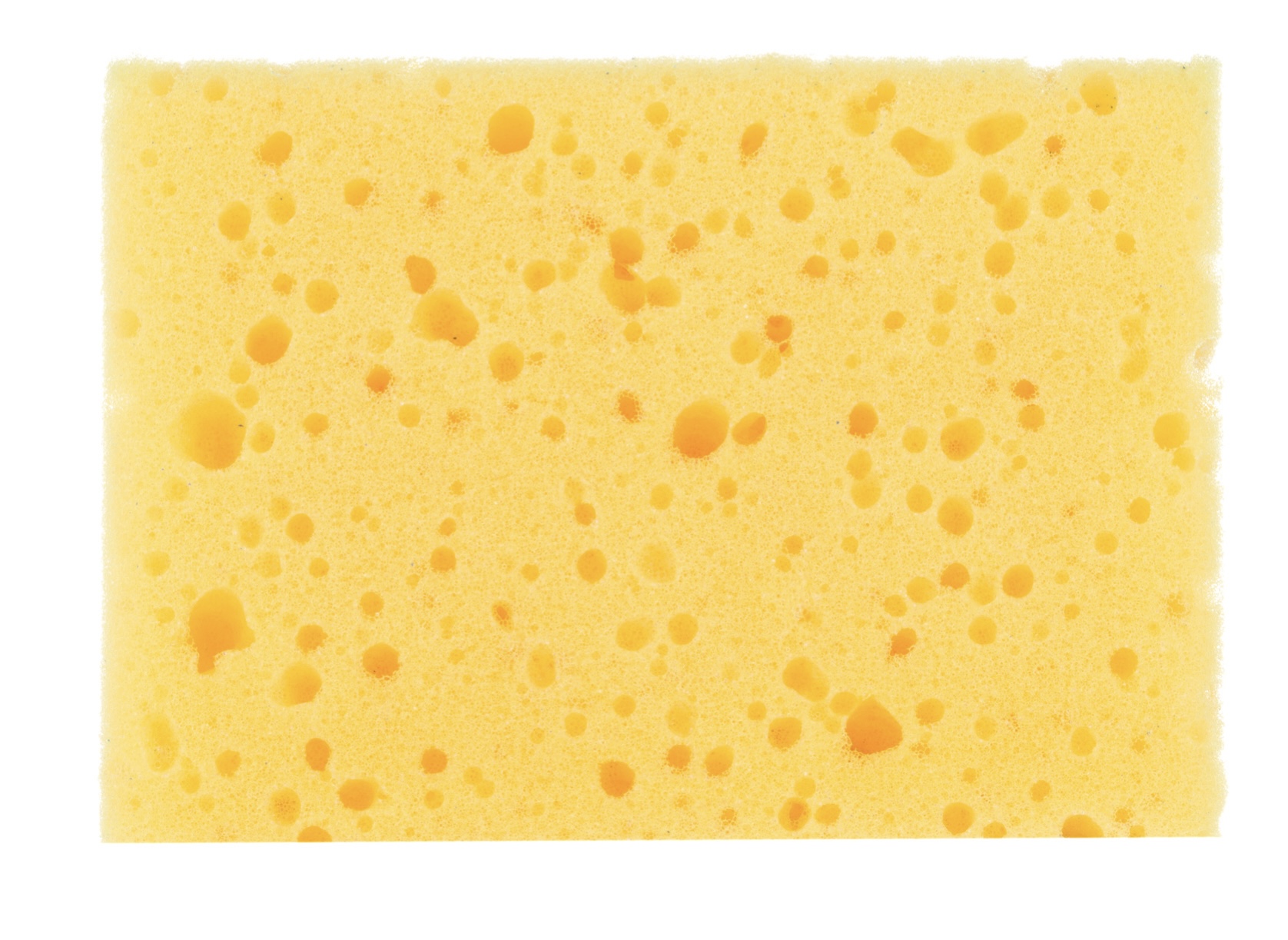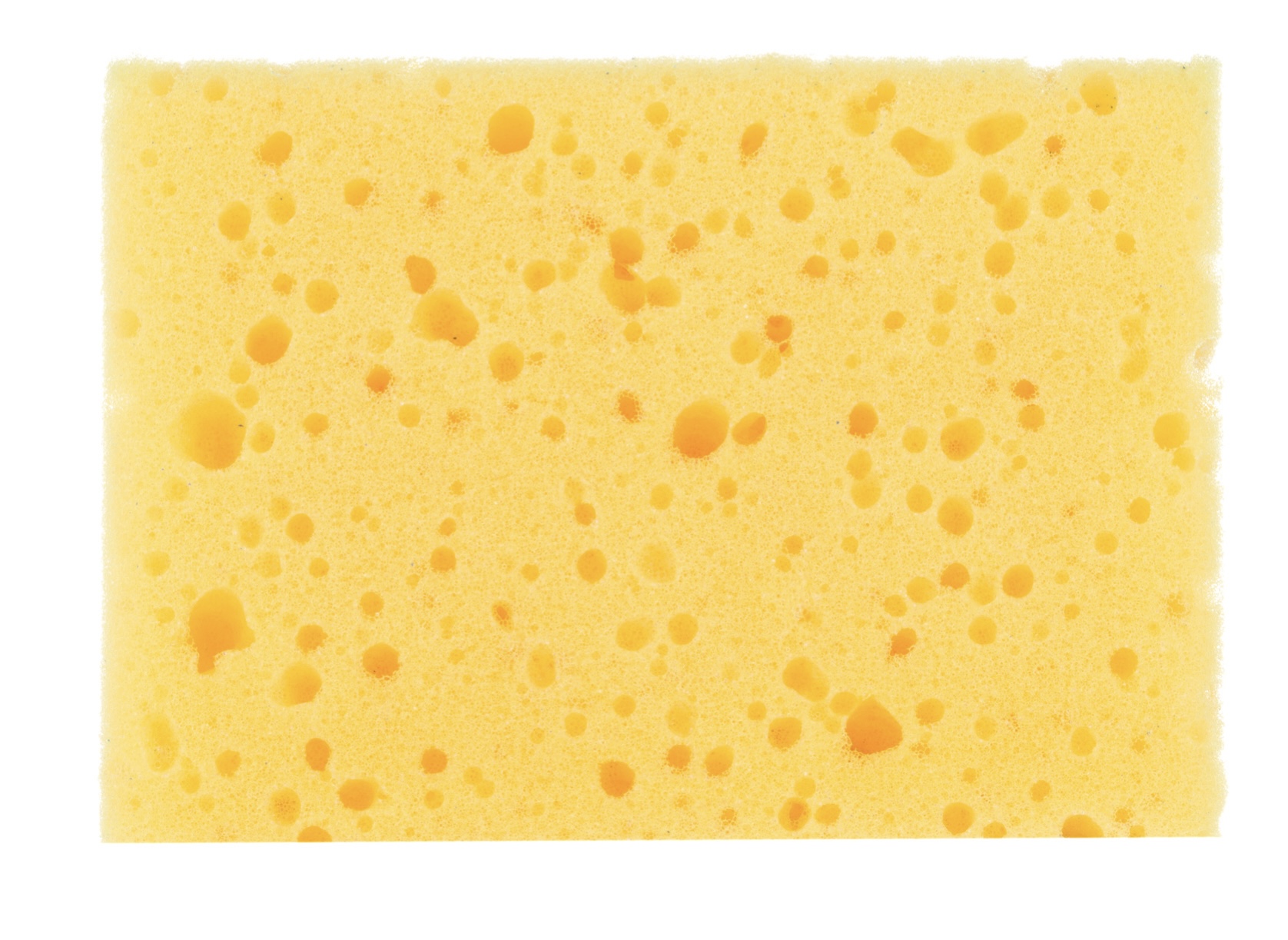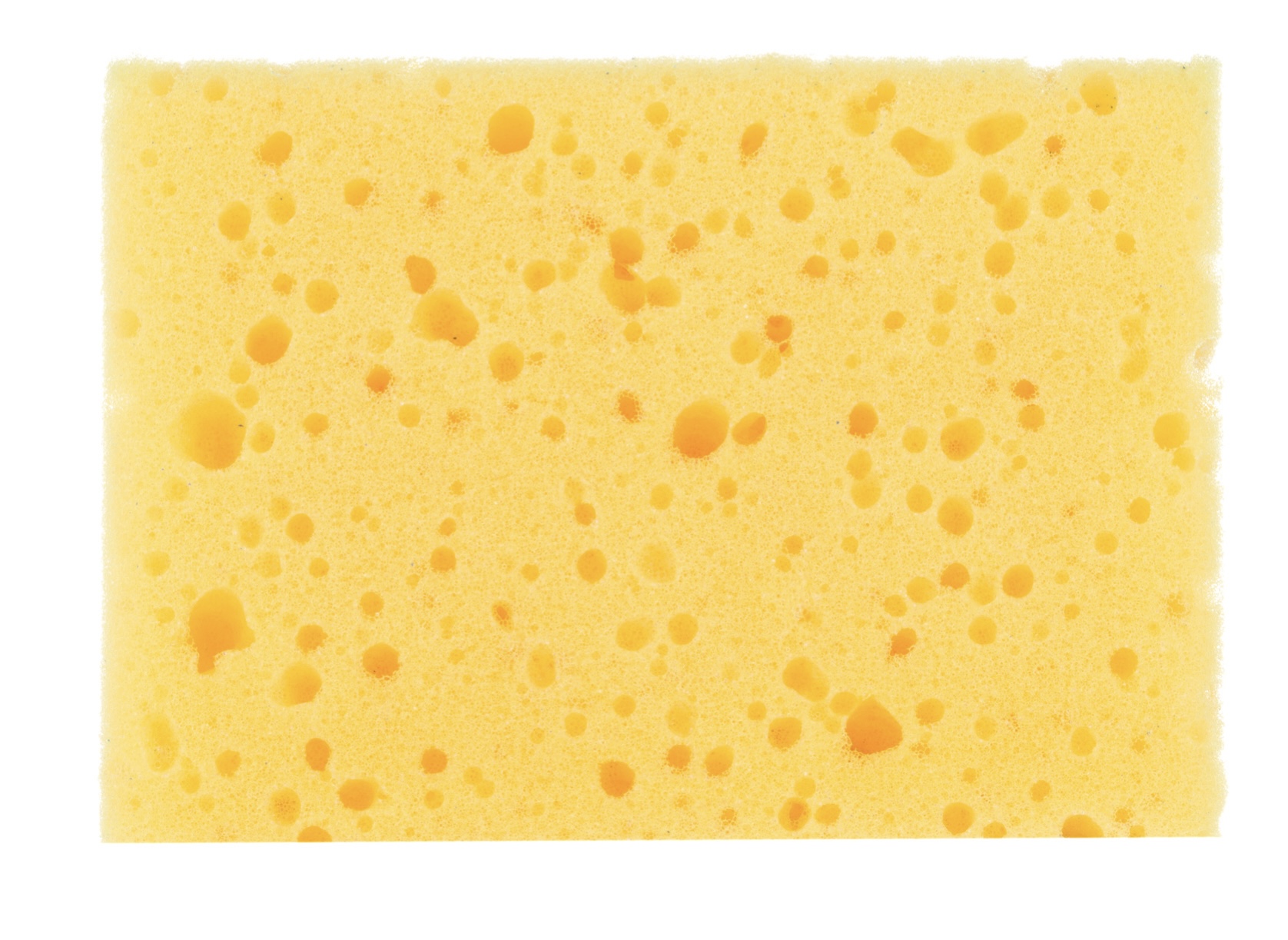 Biodegradability
Our cellulose sponge material is 100% biodegradable.
Biocompatibility
Our sponge in dry condition has been proved to be hypoallergenic. We can produce sponges without bleach. Although we haven't gone through the process of certification ourselves, Spontex sponges are used by customers in medical products of class II and III.
High liquid absorption and retention capacity
The unique porosity provides a large surface area with an open cell structure. Therefore, the natural cellulose sponge is able to absorb 20 times its own dry weight of water and retain this in its pore structure. The cellulose sponge will retain the liquid until this capacity is reached. This feature can also be seen with other fluids such as motor oil, petroleum, gasoline, and also dilute acid (e. g. formic acid or nitric acid).
Compressible
Sponge can be compressed keeping 100% of its characteristics. Only when it comes into contact with water it expands to full size. Compression can be achieved in dry state only. When it's wet, the material is elastic.