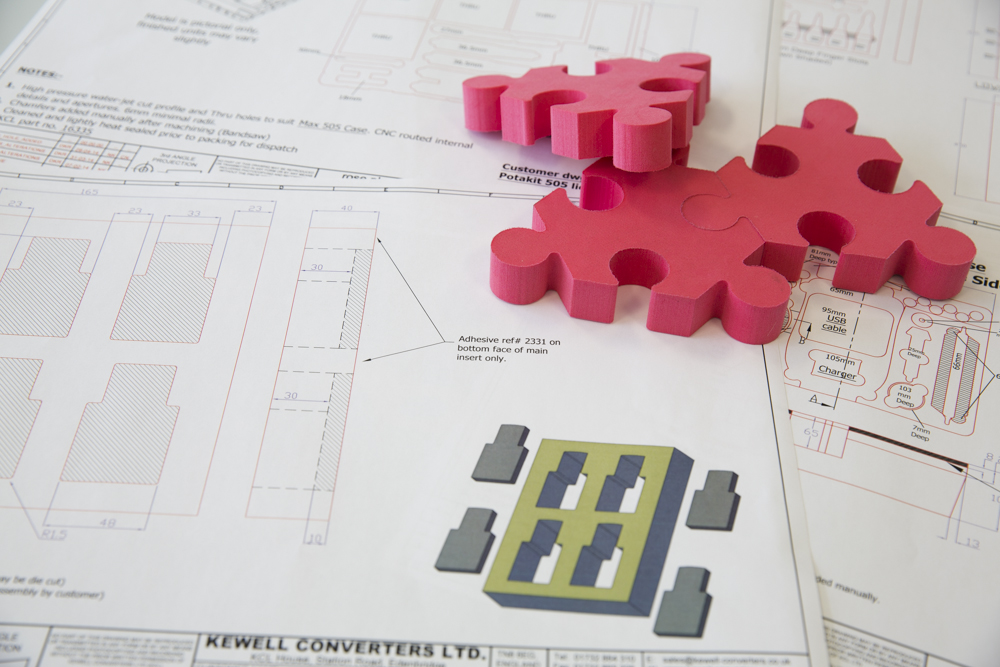 Why Choose Kewell Converters UK as your Trusted Foam Manufacturer
As a leading foam manufacturers in the UK, Kewell Converters has a strong reputation for delivering high-quality products and exceptional customer service. With over 50 years of experience in the industry, we have developed a deep understanding of foam materials and their applications, and we use this knowledge to create innovative solutions for a wide range of industries. In this blog, we'll explore why Kewell Converters should be your go-to choice for all your foam manufacturing needs.
Expertise in Foam Materials
One of the key advantages of working with Kewell Converters is our in-depth knowledge of foam materials. We understand the unique properties of each type of foam, including polyurethane foam, polyethylene foam, and EVA foam. We also have experience working with more specialist materials such as conductive foam and high-temperature foam.
This expertise allows us to advise our customers on the best foam material for their specific application. We can recommend materials based on factors such as cushioning, insulation, and durability, ensuring that our customers receive the best possible product for their needs.
Innovative Solutions
At Kewell Converters, we are constantly seeking new ways to innovate and improve our foam products. We invest heavily in research and development to ensure that we stay at the forefront of the industry.
For example, we recently developed a range of anti-bacterial foams that are ideal for use in healthcare settings. These foams have been treated with a special additive that kills bacteria on contact, helping to reduce the spread of infection.
Another recent innovation is our range of lightweight foams, which are ideal for use in the automotive and aerospace industries. These foams offer excellent insulation properties, while also reducing weight and improving fuel efficiency.
Bespoke Solutions
At Kewell Converters, we understand that every customer has unique requirements when it comes to foam products. That's why we offer a bespoke foam cutting service, allowing us to create products that are tailored to our customers' exact specifications.
Our state-of-the-art cutting machines can produce foam products in a wide range of shapes and sizes, from simple rectangles to complex 3D shapes. We can also provide foam products with customised features such as adhesive backing or CNC machining.
Exceptional Customer Service
At Kewell Converters, we believe that exceptional customer service is the key to our success. We pride ourselves on building strong relationships with our customers, taking the time to understand their needs and providing support every step of the way.
Our dedicated sales team are always on hand to provide advice and guidance, from the initial consultation through to the delivery of the final product. We also offer a rapid prototyping service, allowing customers to test their products before committing to a full production run.
Quality Assurance
At Kewell Converters, we are committed to delivering products of the highest quality. We operate a rigorous quality assurance process, with all of our products subject to thorough testing and inspection before they leave our factory.
We are accredited to ISO 9001:2015, which means that our quality management system has been independently verified to meet international standards. We also have a dedicated quality control team, who are responsible for ensuring that our products meet the exacting standards that our customers expect.
At Kewell Converters, we are passionate about foam materials and the innovative solutions that they can provide. We believe that our expertise, innovation, bespoke solutions, exceptional customer service, and commitment to quality assurance make us the ideal choice for anyone looking for a trusted foam manufacturer.
Whether you need foam products for cushioning, insulation, packaging, or any other application, we can provide a solution that meets your exact requirements.
Contact us today to find out how we can help with your foam manufacturing needs.